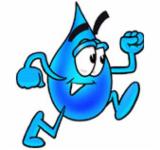 Isle of Man Marathon & half Marathon
Sunday 10th August 2008. RESULTS: Here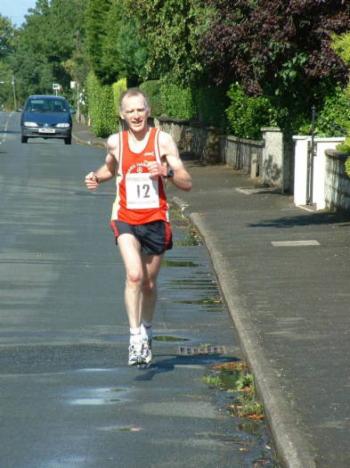 Great run by Murray Lambden to win the race in 2:47:49. Also winning the Isle of Man Championship and leading Manx Harriers to 1st place in the Team Competition. Picture by Paul Jackson.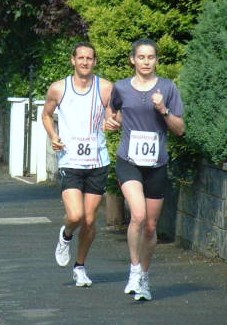 Winning woman in the marathon: Rebecca Johnson, finished in 3:08:28 (5th overall). Pictured here (by PJ) just in front of Paul Curtis who finished 2nd overall in 2:58:00.
Steve Edwards finished his 454th marathon in his 'Marathon Challenge' by coming 7th overall (3:11:17).
Our club members Paul Cubbon & Rob Sellors came in close together at 8th & 9th respectively (3:11:40 & 3:11:51). Rob was filmed by Red Shoes Ltd., and had hoped to get under 3hours but has suffered a back injury recently; he finished 1st in M40 Category. Paul was 2nd in M45, behind Steve Edwards.
More pictures by Paul Jackson here and pictures by Neil Wilson here
Report by John Watterson here
Pictures by Mike Bathgate here
More from Christine Bathgate (Organiser):
We have some new Course Records.....
Open Ladies Rebecca Johnson 3:08:28
Ladies 55-59 Joan McGuiness 4:50:32 (this is a new category)
Men 35-39 Paul Curtis 2:58:00
Men 50-54 Murray Lambden 2:47:49
Murray was, of course, the marathon winner this year - pretty impressive for a 50+ runner!
Ladies 55-59 Moira Hall 2:02:47 (this is a new category)
We also had a record number of starters again this year with 317 runners setting off.
I had hoped it would be considerably more than that but we had a much larger than usual rate of "no-shows" which was very disappointing. I don't know whether the recent problems and cancellations with Steam Packet contributed to this, and whether the local runners and walkers had been put off by Saturday's weather and decided to stay under their duvets on Sunday morning. If that was so then it was a great shame because apart from a few very light showers early on,the weather was perfect for the event and everyone seemed to enjoy themselves.
BIG THANKS to all officials, water stations and marshals -- jobs well done.
-------------------------------------------------------------------------------------------------
2008:
'No Rest for the Wicked'! Details here